GREEN CONTRACTORS
The committee recently voted to change our green contractors and I think the first thing to do is to thank Absolute Grass Care for the wonderful work they have done for us over the last four years and I think everyone would agree that our green is in a much better state than it was four years ago.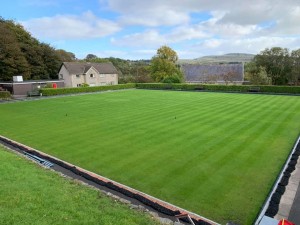 Unfortunately, in a show of solidarity to Absolute, our greens stalwart Roger Harvey has decided he no longer wishes to be part of our greens committee, again, there is nothing but praise for all the work Roger has done on the green over the last four years, I don't think we would be anywhere near where we are today without his efforts.
Our new contractors, Air2root Turf Care Ltd., will start work on the green on Sunday morning at 09:00 and if any members would like to pop along and meet them, maybe ask a few questions about their ideas and plans, I am sure the guys will try and answer as honestly as possible. We are assured further improvements in our green which can only be good for the club going forward.