Beaufort Bowls Latest News
CLUB FINALS 2020
10:00. A minutes silence in tribute to Terry Bunny O'Brien
10:02. Pairs Final, Adam King & Peter Williams v Chris Denby & Daniel Davies Jnr.
12:00. Handicap Final, Adam King v Lewys Thomas
12:30. Memorial Final, Danny Davies v Daniel Davies Jnr.
12:30. 2 Wood Final, Peter Williams v Chris Denby
13:00. Nigel Harris, Lewys Thomas & Jon Norris v Devi Chhetri, Mike Wilcox & Mike Perkins.
14:30. Championship Final, Adam King v Craig Jones.
A good days bowling with the bar open so everyone welcome, please support as the matches run smoother with markers. Good luck to all the players & congratulations to Danny & Chris for getting us to a finals day in a particularly difficult season.

The club are delighted to have received support in the form of a Magic Little Grant from the Postcode Community Trust in partnership with Localgiving.
The award of this funding will enable us to improve the coaching capabilities at the club and also provide more assistance to less able people so that they may enjoy the game too.
Localgiving is the UK's leading membership and support network for local charities and community groups.
Postcode Community Trust is a grant giving charity funded by players of People's Postcode Lottery.
If you think your charity or organisation might benefit from a Magic Little Grant visit their website at www.localgiving.org/magic-little-grants
More information can also be found by visiting the sites of the Postcode community trust and local giving.
www.postcodecommunitytrust.org.uk
A few notes I wrote about the club tour to Torquay in 2001 that some members might find interesting. Click Here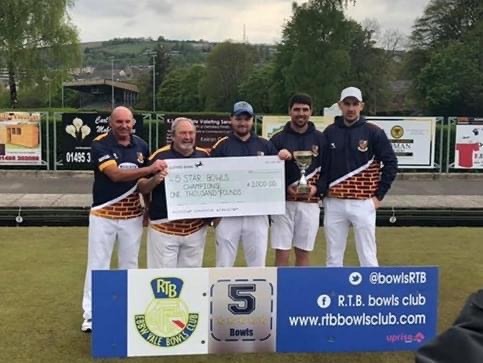 I guess with the current situation of no bowls, this weekend sees the club retain the 5 Star trophy, well done guys, see if Owain got another cheque there.